E-book
Ultimate Guide to Email Marketing
Email Marketing is one of the most common marketing channels for digital marketers. Read this beginner's guide to Email Marketing to learn everything about running email campaigns and be successful.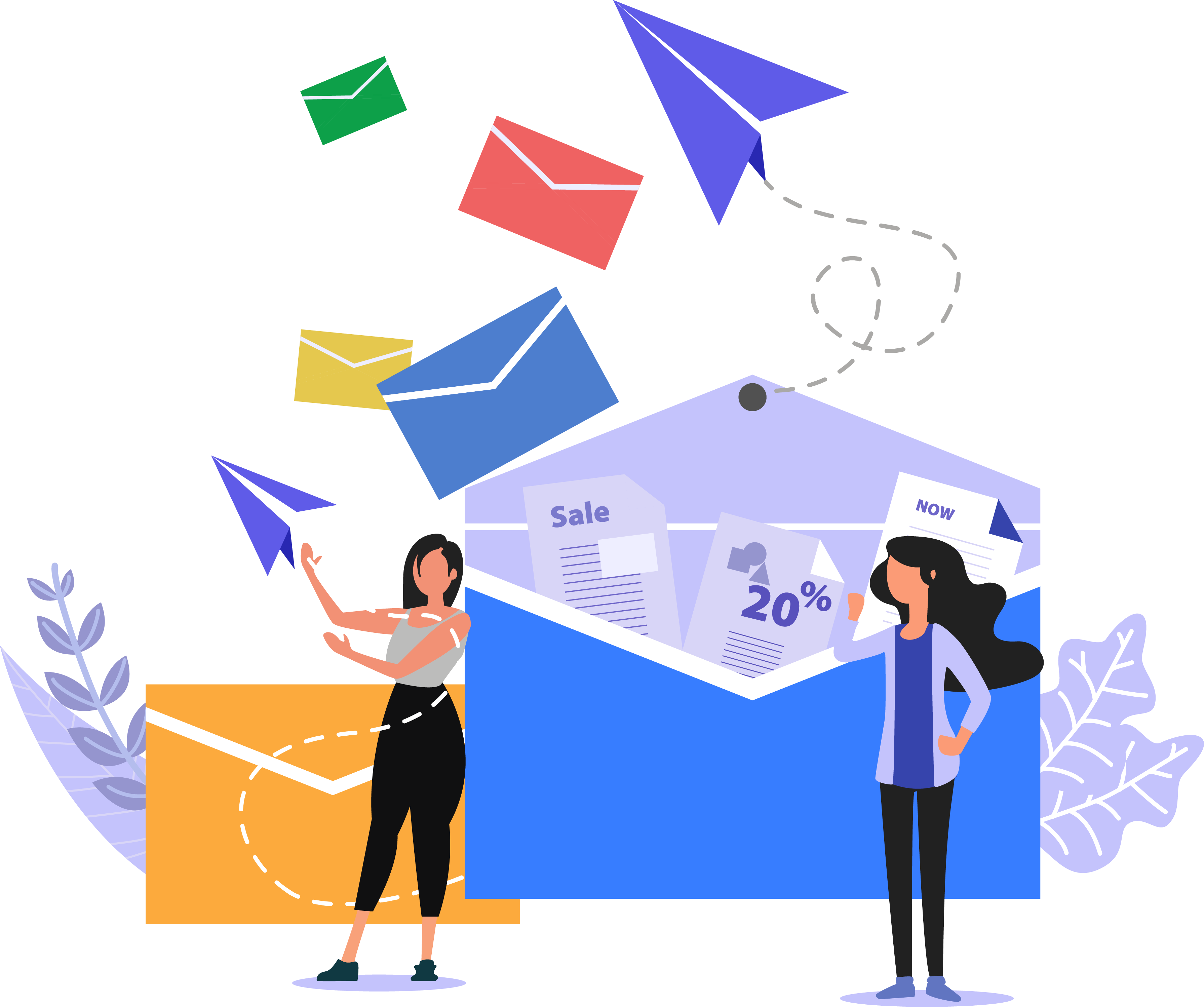 In the last decade, email marketing has emerged as one of the most powerful tools in any marketer's arsenal. It offers a relatively inexpensive, personalized, and highly-targeted way to grow your subscriber base and raise brand awareness. Email marketing has always had an important role in business. It is one of the marketing channels to reach your customer base, make sure people see your message, and often trigger sales or other actions.
With the advent of more and more brands developing effective email marketing programs over the last decade and a half, marketers have been able to better segment their customers and cut through the clutter of other promotional messages. when implemented properly, an email marketing campaign can bring in more new clients than an entire grid of billboards, and it doesn't trigger road rage. This is the goal of any email marketing campaign: to turn every reader into a customer. Email marketing also works well for other purposes, including brand-building and collecting feedback. For example, emailing allows marketers to send newsletters, targeted promotions and information about events or products that are specifically intended for consumers' interest. This form of marketing is intended to increase the frequency and familiarity with which customers hear about a brand, increasing the chances they will buy at some point in the future. Further, you can collect information about your customers which allows you to understand them better and build relationships with them. It also gives you data that can be used in future marketing communications.
Purpose of the Guide
This guide is written for the intermediate marketer who is interested in learning the advanced concepts that will take their email marketing skills to the next level. To keep the guide engaging for you, we have shared several real-world email marketing strategies, best practices and core concepts that will help you optimize your email campaigns. Further, we have shared several campaign templates, list building tactics and deliverability best practices that will positively impact your bottom-line conversion goals.
Why use Email Marketing?
Email marketing is a powerful way to build relationships with your customers and keep them up to date with any relevant updates of your business. It's also a great way to drive sales. In fact, email marketing has been shown to be 3x more effective than social media as well as 3x more effective than display ads when it comes to driving sales!

Email marketing can provide you with valuable customer insight, which can be used for segmenting customers and creating relevant content. It'll also give you an idea of what is and isn't working for you so that you can make adjustments accordingly.
Need for Email Marketing
Email marketing is an extremely important thing for any business to have. If you are a new business, it is important to brand yourself properly and recognize that you do need an email marketing plan. There are several different benefits that can come from implementing email marketing activities.
Email has the highest open rate compared to other forms of communication like SMS and social media platforms - meaning that people are more likely to read your emails and check out what you have on offer when they're online.
Email marketing is an easy way to get your promotions in front of your customers and can also give you the chance of re-targeting them so that you'll have a better chance of getting them to buy what you're selling.
It's a cost effective way to send promotional emails because they're just as good on your computer as they are on mobile phones and even better than printing paper advertisements which can be expensive.
Direct email marketing campaigns can be personalized to suit each and every customer - this helps you relate better with your customer which, in turn, will help you gain their trust and loyalty.
Email marketing is a good way to promote affiliate programs or advertise online deals and coupons. Another way that it's cost effective is because you can buy email lists, bulk send emails or hire companies to do the mailing for you.
It can help make a company's brand name more recognizable - which makes a company more recognizable amongst hundreds of other brands out there today.
Email marketing is an easy way to promote your brand to new and current customers. Not only that, but it's also a good way for businesses to communicate with their clients or customers
This type of marketing can be used for sending invites or reminders for customer service - right down to sending receipts and invoices.
When done correctly, it can increase traffic to a website by scheduling your emails so that you get the most out of them at the most effective times.
Studies show that email marketing can have a positive impact on the ROI of your business – so it's clear why businesses are turning to this particular form of marketing as their top priority.
It shows the customers that you value their loyalty - which will help you keep your customers more likely to continue purchasing from your company or place of business.
Email marketing enables a direct line of communication with your clients or customers which can be incredibly helpful when you're trying to get something done or organize an event for them in the future.
Email marketing can be used for general marketing, like sending out a newsletter or communicating with clients via newsletters - not only that, but it's also an excellent way to promote specials and deals that will bring in more customers to the business.
Email Marketing Can Improve Your Brand Awareness
There is no question about the fact that email campaigns have been instrumental in keeping some of the biggest brands and businesses in the country. Studies have shown that it takes on average 20 times for someone to see an ad before they remember what it is and, if you were to send out a bulk email, you could easily stand out from your competitors. All in all, email marketing helps in spreading the word about your company's products or services, boosts sales and makes your brand far more recognizable than it was yesterday.


Email Marketing Boosts Sales
Email marketing can boost your sales in several different ways. One of the most effective ways this happens is that email marketing will always keep your business' name and brand directly in front of the consumer. These constant reminders ensure that when it comes time for the consumer to purchase something, there is a higher chance they will choose you over someone else.
76% of consumers have made a purchase based off of an email they've received - which means that it's clear why businesses are investing heavily into this particular platform.
Email Marketing Makes You Stand Among Competitors
Email marketing can be used in any capacity because it works well for those who are trying to sell their products online as well as those who want to sell products at local stores. That's why they're great for modern businesses.

But the most important thing about email marketing is that it will "give you the edge" over your competitors because it allows you to stay up-to-date on things and trends in a way that other mediums don't allow. Additionally, email campaigns are an effective way of reaching a larger audience than social media platforms because, as we mentioned before, people are more likely to read emails than anything else online.
There's no doubt that email marketing can be used in conjunction with other forms of marketing like social media, banner ads, website posts and more - but the bottom line is that it's a great way to stand out amongst your competition in today's market - so make sure you take advantage of this opportunity.



Email Marketing Is More Effective Than Print Ads
One of the major reasons why businesses are turning to email marketing is because it's much more effective than print ads. One of the most common arguments against email marketing is that they're not as persuasive as print advertising, so many businesses try to get their information out there on mass media platforms in order for them to gain more exposure.

But is this really the case? Another one of the biggest problems with print advertising is that they can often be expensive and ineffective because they don't follow the best practices for marketing. Print ads that are sent out by businesses don't stand a chance against email marketing in a lot of cases because it's much more effective at targeting customers in this digital age. Email Marketing can be used to promote everything from new products to sales and even coupons or special deals that will encourage consumers to purchase from you.
Email Marketing Is Easy To Setup & Use
Another reason why businesses are turning to email marketing is because it's easy to setup and use. Even if you're not an expert at all, you'll be able to figure out how to make an email campaign within a short amount of time. And not only that but this type of marketing can be used for customized client lists, personalized messages and even setting up drip campaigns (automated processes).

You'll love the fact that setting up an email marketing campaign is straightforward and simple - all you really need is the right tools so that you can send emails from your own domain or website.
Email Marketing Is Cost Effective
Email marketing is another reason why businesses are turning to it because it can be extremely cost effective. It can be a lot cheaper than traditional advertising and, depending on what you're selling or offering, you may even get a higher ROI than traditional media advertisements.

It's easy to see why email marketing is so popular - this form of digital marketing is incredibly effective and can be used for promotions that will encourage your customers to purchase your goods and services, as well as for communication purposes. And it's an excellent method for getting your business out there with an effective message that will get people interested in your brand or business.
Email marketing is the latest phenomenon. It's one of the easiest and most cost effective means to communicate with your customers that you have, but it's also great for building brand awareness and more. If you're interested in starting an email campaign, this article will help get you started quickly and easily.

By following these tips, you'll be able to get great results from the start.
1. Your Goal
What is it that you want to achieve from your email campaign? Is it to create brand awareness? Generate leads? Inform about your solutions? or Nurture them? Your goal is important for crafting the email marketing campaign, and track the progress. We do not recommend multiple goals per campaign for our customers as prospects may get distracted easily. However, we leverage marketing automation tools to periodically achieve multiple goals by creating multiple campaigns/workflows which trigger based on the prospect behavior/engagement.
2. Determining Your Audience
Before you start any campaign, it's important that you understand your audience. Who exactly are you targeting and what do they want? Once you've determined that, it's time to decide on which of the many tools is best for your target audience.
3. Finding a Marketing Tool or Service Provider
There are several email marketing options out there for businesses of all sizes and from all industries. Tools such as Constant Contact, Mailchimp, HubSpot and GetResponse are some of the services that offer email marketing campaigns as a service. A tool will be easier to use and may be more effective at reaching a larger segment of your audience.
4. Budgeting For Your Campaign
What's the cost of sending one email? It depends on the provider and the campaign, but on average an email campaign costs between $2-$3 for every thousand emails sent.

With that info in hand, you can make a budget for your campaign and start planning what kinds of emails you would like to send out at what intervals. If you're planning a very simple, one or two-step, two-week email schedule, it doesn't need to cost nearly as much as if you have multiple campaigns planned over many months or years.
5. Choosing Your Subject Line
Part of the success of your campaign will depend on the subject line. Your email's subject line is one of your most important marketing tools and should be used strategically. It pulls attention to your email and gives it personality. Try to keep it short and to the point -- people won't read a long, rambling subject line that they can easily skip over. They'll either open your email or not, so being concise is best.
6. Personalizing Your Email
It's important to note that when you're emailing your customers, you need to address them individually. This means that when you're crafting the newsletter or email, you'll want to keep each customer's name in mind and reference them within the body of your email. This helps make your customers feel special and relatable. It also makes them far more likely to read your emails and take action on any offers they have inside.
7. Content for Your Message
When creating a message for your audience, it's best to use a combination of storytelling, imagery, videos and calls-to-action -- all in one. Using story-based emails will keep your customers engaged in your message and keep them coming back to your emails.
8. Calls-to-action
Calls-to-action are a great way to direct your readers to your site and encourage them to take a specific action. There are several ways you can do this -- in the body of your email, you should have a button or link that will take them back to your website where they can make the purchase. Another way is by placing an "Offer This" button in the center of your email that takes them directly to your offer or landing page. If you're trying for conversions, it's best to use buttons that keep it short and sweet -- three words or less is best.
9. List Segmentation
This can be done using IPs, email addresses, or both. With lists, you'll create a different list for each campaign you send out to different segments of the same audience. The segments are usually groups of people with common interests and demographics that can be reached with a specific type of content and/or offer.

List segmentation is crucial to email marketing success because it helps to ensure your list is 100% optimized for your campaign and your audience -- it makes sure that everything in the communication is relevant to each individual on the list.
10. Testing Your Campaign
Even after you've created your campaign, it's essential that you test and measure it. This means that you'll be sending the emails to a small segment of your list in order to see how well it does. If the campaign is successful, then you can go ahead and create the rest of the emails for your larger list. If not, you'll want to make adjustments to improve your open rate and click-through rate.

It's crucial to know what works and what doesn't so that you can continue to get better results with each campaign.
11. Tracking Conversions
If you want to keep track of the performance of your email marketing campaign, it's important to track conversions. This could be a purchase, a sign up for your newsletter or an information request form. There are many tools out there to help out with this -- but you can simply keep a record of how many emails you send each day, how many open, whether your landing page is converting and how many people linked from your site to take further action.
12. Sending Your First Campaign
Once all the planning and preparing is done, it's time to send your first campaign. Before you launch it, make sure that everyone on your team knows exactly who they'll be sending the emails too -- in order for this process to be successful, everyone needs to get involved from the very beginning.

You're able to send emails to individual customer segments -- but that's not all. You can also be proactive with your email marketing campaign and start reaching out to new customers as soon as they subscribe. Sending postcard campaigns or automated follow-up emails are great ways of making sure you reach every customer's inbox in a timely manner.
13. Following-Up After Your Campaigns
Follow-up is absolutely necessary to ensure that you get the results you want from your email marketing campaigns. It can be as simple as sending out another email or calling someone -- this depends on the goal of the campaign. For example, if you sent out an energy campaign for a new product, then perhaps you should follow up with another campaign about how well it worked for them and how quickly they saw results (if applicable).
14. Analyzing Your First Campaign
After your first campaign is completed, it's a good idea to take a step back and analyze what went right, what could have gone better -- and what you can do to improve it for next time. For example: if you had a high click-through rate but low conversion rate, the subject line might need to be changed for the next campaign. You could also add more images or videos to the next campaign in order to convince more users to take action. And if you're not getting any clicks, you might want to consider changing the subject line or even removing an action button that doesn't appear to be working well.
15. Keeping Up With Trends
Finally, it's important to keep up with the trends -- especially when it comes to email marketing campaigns. There are always new tools and strategies that are emerging that can improve your campaign's success rate.
Succeeding with your email marketing campaign is going to require a lot of work, research, and tracking on your part -- but if you've been successful in the past, then it won't be too hard at all. Just remember that email marketing is about the customer, and it's going to take some time for your customers to learn about your company -- but give it time.

Make sure to keep up with tips and tricks in this space and find strategies that work best for your business. That way, you can stay on top of the latest trends and use them to great effect in your email campaigns.
Are you using email marketing effectively?
Email marketing is one of the most popular ways to promote your business and grow your customer base. Though email marketing has been around for a long time, many people still don't know how to reach their full potential or what to do when little things take a turn for the worse.
In this section, we have listed out 101 email marketing tips which help you optimize your email campaigns. If you are currently running email campaigns or about to start, there are great chances that these tips will help your current campaign become more functional, more successful and more profitable.
Use email marketing to build relationships with your contacts
Send emails regularly
Do not spam your contacts
Avoid buying lists for running email campaigns
Avoid excessive use of links
Provide share worthy content to engage audience
Test inbox placement to see how your email is getting delivered
Test email to make sure everything is correct
Use Images to drive CTR
Have a clear CTA in place
Do not confuse the recipient with too many offers
Choose the right day and time to deliver emails
Have a clear subject line.
Save email templates for future purposes
Avoid hitting Spam filters
Run your email copy on grammarly to make sure there are no typos and grammatical errors.
When you sent a wrong email by error, email them for the inconvenience caused
Don't waste time sending emails manually. Automate where possible to improve productivity and make campaigns more effective
Stick to your brand image
Optimize your email design for mobile at all times
Use heatmaps to understand email copy engagement
Use bullet points when you have a long email copy
Keep the subject short and engaging. Open rates are usually higher when subject line is short.
Use tools for email list hygiene
Benchmark your email campaign metrics with Industry ones
Maintain consistency
Nurture them
Focus on improving email sending reputation
Use Emoticons to differentiate your email from others
Highlight important dates to register your event in the minds of your subscribers
Create urgency with countdown timers
Avoid jargon and chat language in your marketing assets
Use Power Words & Action Verbs
Use the right email formatting
Use relevant keywords in your email copy & subject line
Make it easy to find your website
Make sure that the bounce rates and unsubscribe rates are low. Otherwise, Email Marketing Service Providers may suspend the account.
Email Open Rates vary based on the contact lists
Use the short description to drive engagement
For weekly/monthly Newsletters, use RSS feeds to populate the recent blog posts and send emails automatically.
Keep your email copy concise.
Make the message relevant to your audience.
Use Alt tags for Images. Many of the IT administrators block images of incoming emails from automatically loading up. When this happens, the alt tags provide some context about what your image is.
Follow CAN SPAM Rules to abids penalties for tough violations.
If you are contacting contacts in EU, follow GDPR rules
Use a Marketing Platform to track all the email activities to an individual.
Send emails in blocks. When you have hundreds of thousands emails to send out, send emails in multiple blocks to avoid emails going to spam.
Schedule your email campaigns in advance to reach the prospect at the right time and to avoid last minute hassles
Know the difference between Transactional Emails VS Marketing Emails
Know the difference between Marketing Emails VS Lead Gen Sales Emails
Set up notifications when a contacts engages with your email
Add brand name to From Address
Use a valid "From" Address. This is essential because automatic replies come to this address when there is no specific reply- to address mentioned
Implement DKIM, SPF records to authenticate your domain with email service provider
Avoid using generic email addresses in your "from" address
Dont tell them. Show them with real life examples
Make your emails feel like a continuous conversation
Use URL parameters to track campaigns
Use URL parameters to pre-fill form fields
Re-engage contacts with discounts, offers and more.
Align Subject line and Email Copy
Use active voice. Passive voice

distances the subject from the action of the sentence, which leads to less clarity and urgency.

Add a success story in your email copies to generate curiosity and engagement
Make scheduling meetings easy with Calendly and avoid exchange of multiple emails in scheduling meetings.
Drive them in their buying journey
Ask them to "report as not spam"
Use automatic replies & OOO to collect subscriber information such as phone number, alternative contact details etc.
Tease & maintain curiosity.
When prospects say NO to promotional emails, it means a BIG NO and limit your promotional emails to them.
Make sure the HTML and Plain text emails match
Have an Email Marketing Calendar in place.
Don't stop experimenting with your CTAs, email copies, graphics and subject lines.
Design for simplicity
Use basic fonts such as Arial, Verdana, Georgia and Times New Roman
Request your subscribers to add you as a contact in their inbox
Request your subscribers to mark your emails as important & move it to Inbox
Make sure the banner heading and subject line are matching
Know how many of the users have reported as Spam using Google Postmaster tools
Know about your domain reputation and IP reputation
Know the amount of traffic that passed SPF, DKIM & DMARC authentication
Use SpamAssassin
Track your campaign
Check beyond Opens & Clicks
Use the right email marketing tool. Best ones are MailChimp, HubSpot and SendInBlue.
Make sure the landing page is loading superfast. Use GTMetrix to know the issues affecting the loading time.
Keep an eye on the bounce rates and unsubscribe rates
Enrol in

Outlook's

Junk Email Reporting Program and

Microsoft's Smart Network Data Services

(SNDS).

A shared IP does not necessarily doom you.

User engagement plays a key role (Opens, Clicks, replies, forwards)

A dedicated IP is not useful if it is poorly managed.
When it comes to choosing an email marketing provider, there are several things you should look for: flexibility, ease of use, speed and reliability, IP reputation, dedicated support staff, and tools designed specifically for email marketing campaigns. These factors will help ensure the success of your email marketing campaign, because they will make it quick and easy to create the messages and track their performance.
MailChimp
MailChimp Review - Mail For the Masses? MailChimp is often the first newsletter tool that springs to mind, possibly because they have great marketing and a charming monkey-fied aesthetic. They offer a free plan, with which you can send up to 10,000 emails a month to 2,000 subscribers.
HubSpot
With HubSpot email marketing tools, you can create targeted emails without having to write any code. HubSpot also enables you to automate the sending of these emails based on contact's behavior.
SendInBlue
Sendinblue is one of the best tools for trigger-based and transactional emails. Its automation workflow designer allows you to build campaigns triggered by clicks, opens and even webpage visits. And its dedicated transactional section allows for messages such as password resets, and sign-up and purchase confirmations!